Lacedonia has now its own ambulance
It was something we talked about for more than two decades; there were meetings with no positive outcomes. Many people who perceived the uneasiness of this big void aspired to it. Finally, the dream has become a reality.
Lacedonia has at last its own ambulance: the Brotherhood of Mercy of San Nicola Manfredi donated it as a act of love.
This is what happened thanks to the commitment of the local Brotherhood of Mercy, which was established a few weeks ago by its very active director Carmela Viscosi. This very wished for event was realized by the generous sister from Benevento, who had been guided by the young and enthusiastic enterpreneur, Arturo Vernillo.
The vehicle is in good conditions and will be parked otside the head office of the brotherhood, next to the rest-home "A.Ciriello". It's a Ford Transit 2000 which soon will be put to work next to another ambulance that was donated to the brotherhood of S.Angelo dei Lombardi by the governor G.Lucido.
We thank with all our hearts our giving friends and sincere thanks to all the members of the new magistrate.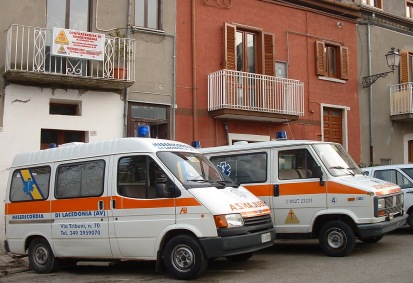 We hope with all our hearts that our town may be appreciative and show agreement and gratefulness, that it may be sensitive and generous, and that it may welcome the recent appeal of our cathedral's new parish priest, don Sabino Scolamiero who said: solidarity, civil commitment and participation are values which always pay.